Jaakko Lohjansalo is heading to new adventures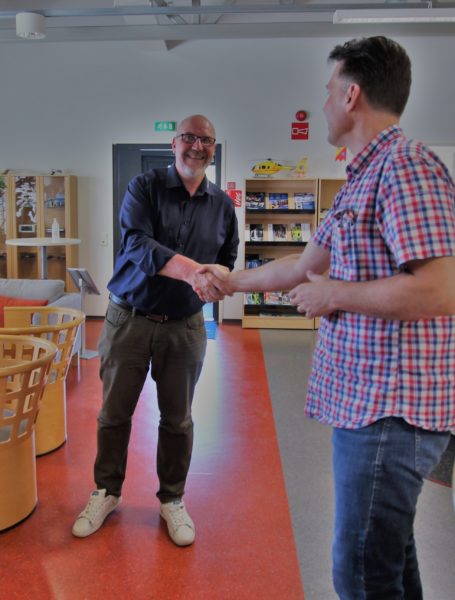 Jaakko Lohjansalo, better know as Jaska, the founder of Tamlans is leaving the company. We are going to miss him when he's starting his new journey after the summer holidays. This story is written with respect and thanks to Jaska for his significant work at Tamlans.
Jaska also is the man behind the Tamlans module brand. At Volkswagen's traditional winter driving school in the beginning of the year 2011, Volkswagen Amarok made its debut in Finland. Jaska then got to test Amarok and found that this would make a great ambulance. Already at that same evening, he designed the first modular ambulance on a napkin. Somewhere at the end of the year, after Jaska had already left from work, inspiration came and he returned to work to draw an Amarok modular ambulance and think about possible markets for it.
Today, Tamlans has the most comprehensive range of brands in Finland on the passenger transport side and the Amarok modular ambulance production line plays the largest part in the rescue vehicle department. In addition, we equip a wide variety of special vehicles. The Amarok modular ambulance has gained tremendous interest around the world and the most significant export market is Norway. There are also Amarok ambulances in a few places in Finland, and Finnish experience from experts in the field has been utilized in product development along the way. The cooperation with customers has been valuable so that  the modular ambulance is as safe and as ergonomic work environment as possible. One American ambulance professional, Scott Cravens, praised the Volkswagen Amarok Tamlans modular ambulance as the most efficient and ergonomic ambulance on this planet.
Jaska had already decided in time to dedicate himself to Tamlans for 20 years and eventually now after two extra years it is time to move on to new adventures. From the beginning of August, you can find Jaska working as a founder and CEO of the towing and transport company Autoambulance Oy in Helsinki.
Jaska's greetings to customers, partners and colleagues:
"Thank you all for the years that have passed! Even though the journey with Tamlans ends, the friendships that have developed over the years will continue as before! "